🇮🇩Indonesia
A tiny part of Indonesia: Bali and Penida. One of the coolest stops on the trip.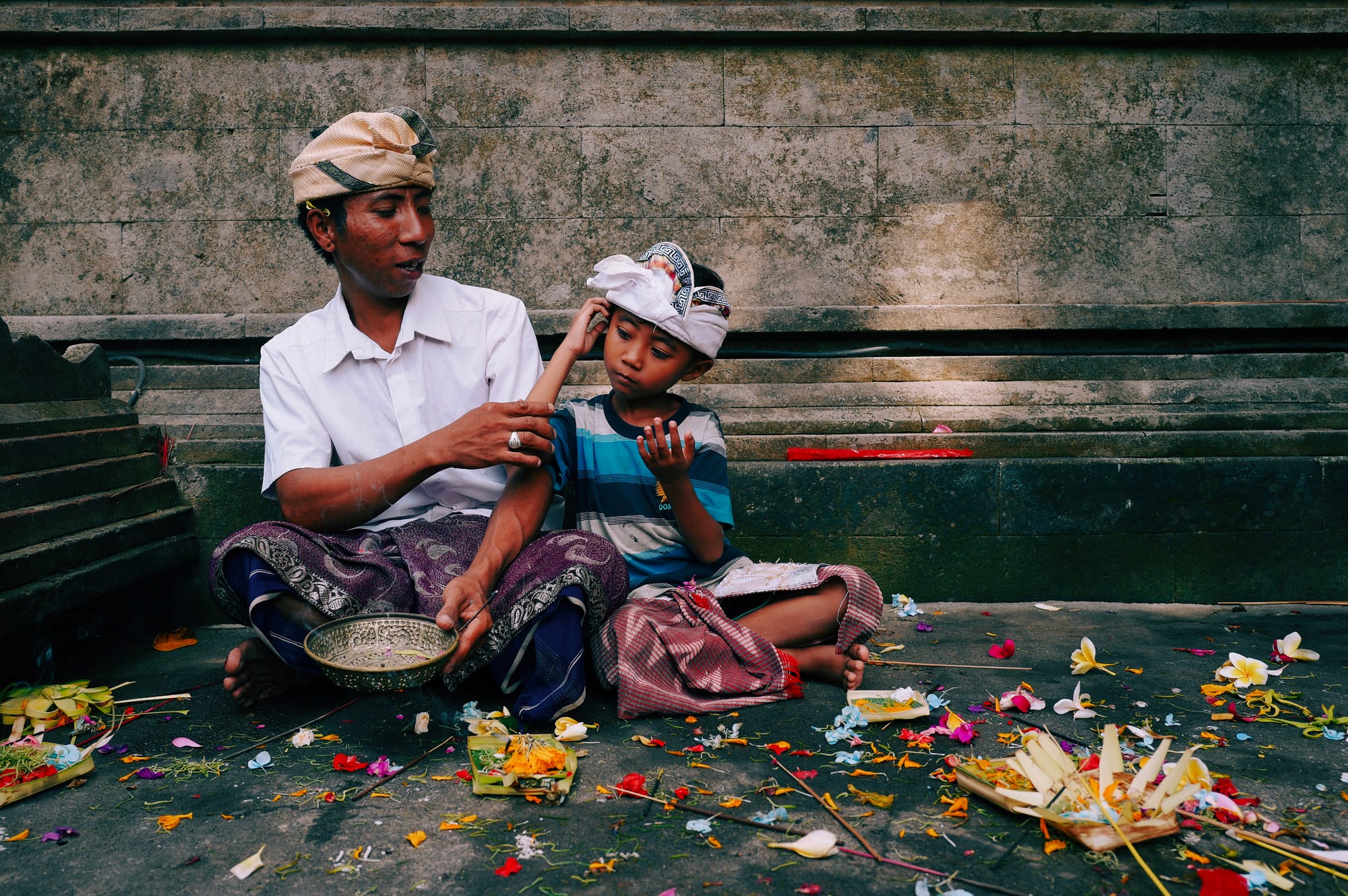 Ubud. Quiet, but not that quiet.
Indonesia was planned in a rush, as we needed a ticket out of the country before they would allow us in. We were already standing at the airport, ready to board our flight to Bali, when we found out about this requirement. We had to think quickly. There was, after all, an airplane waiting for us already, no time to lose.
So we skipped the initially planned visit to Flores, and forgot all about a couple other islands we had also discussed, and settled with Ubud, in Bali, and Nusa Penida, still Bali but a different island.
Ubud is supposed to be the calmer counterpoint to Kuta on the island, without the thousands of tourists and endless buildings you find in the latter, but it was not as quiet as anticipated. Still, our lovely hotel was a bit removed from all this, we had to do a bit of walking back and forth, but well worth it. The extra quietness was appreciated. movieStar would ALWAYS pick the time we were going up the road, a long and steep road, to chat about some nonsense. Always! Almost out of breath, but willing to chit chat.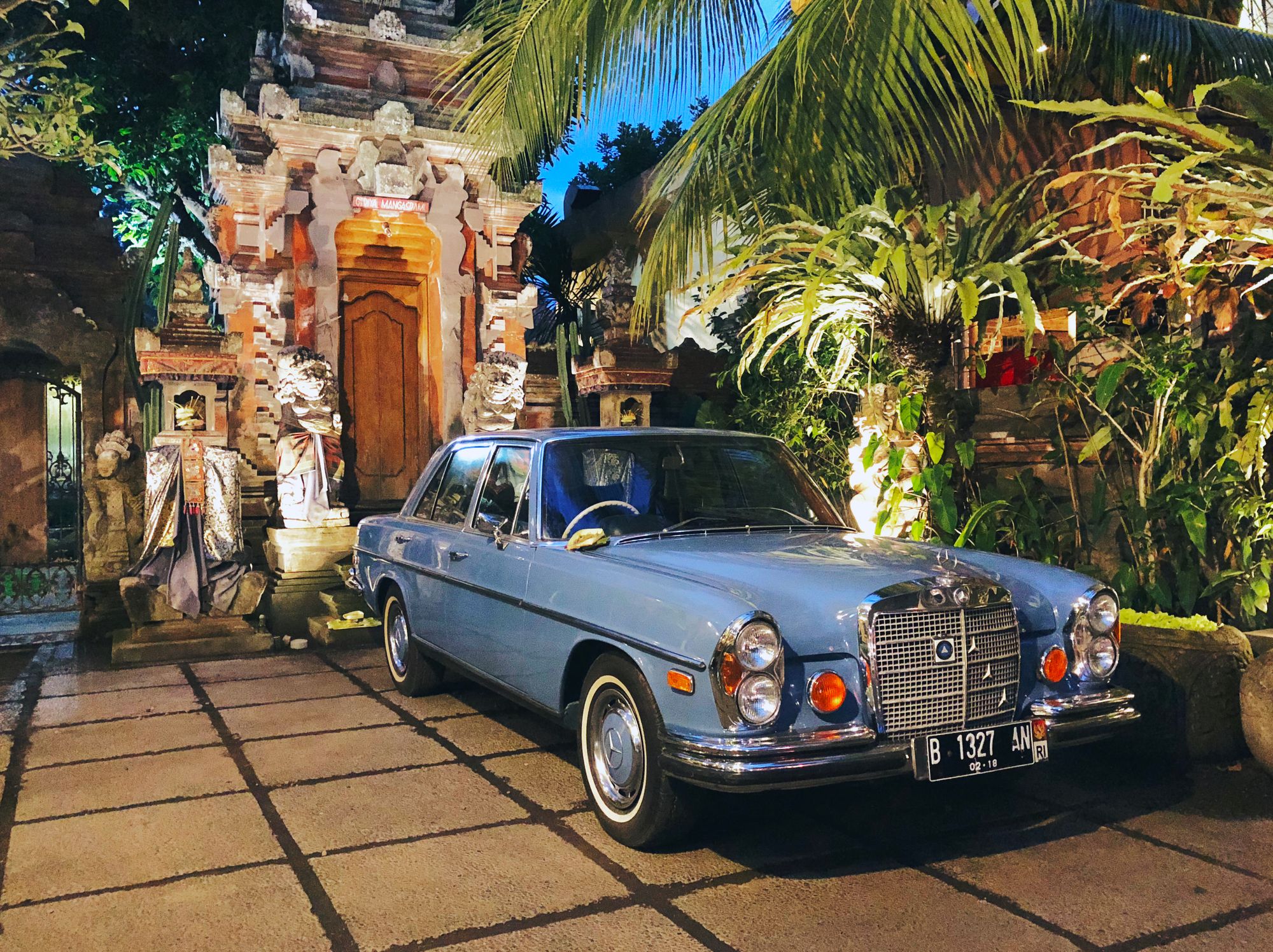 Very cheap, comfortable, with a lovely pool, and a few nice restaurants right outside, it was the perfect place to relax at the end of the day. We also found a friend in Mr Pande, a gentleman who worked at the hotel. He would drive us around whenever we needed, and would stay with us up to the last moment on the island. He picked us up when we arrived at Denpasar airport and would drop us off when the moment came to move on, many days later, after the trip to Nusa Penida.
Ubud is nice enough, plenty of rice paddies to visit or cycle around. Lots of giant swings over the paddies too, ready for those Instagram moments. It's incredible how these things mushroomed all over the world!
Ubud isn't really a town, but a group of small villages that you can visit in a few days.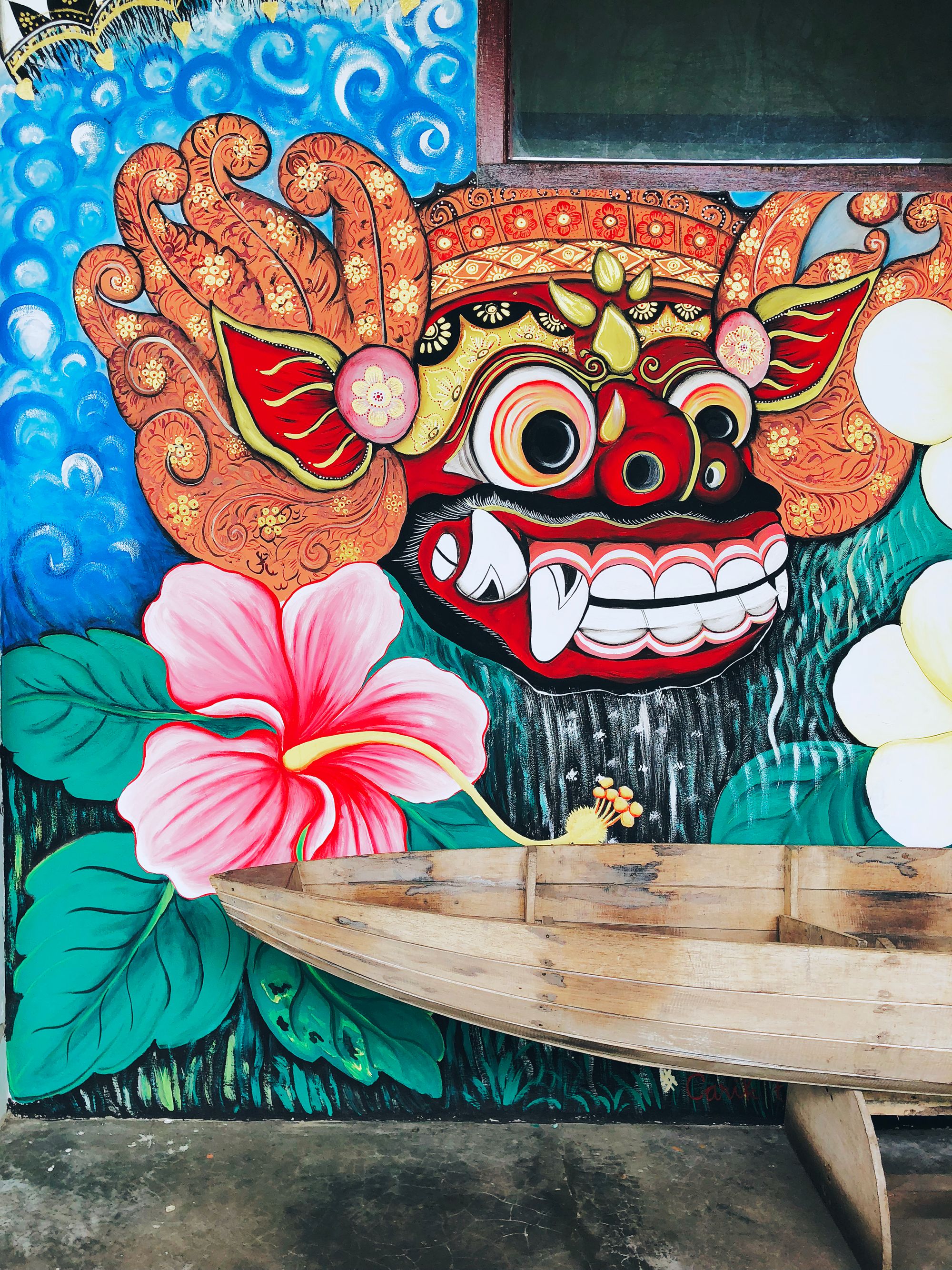 A fair number of restaurants, cafes, and shops. Modern, good looking, with loads of stuff you'll want to take home. There's also great food, yoga if you're into it, plenty to do. A ton of temples on the island and, even knowing these would probably be packed with tourists, we had to check a few of them out. We were happy we did. I see no reason to skip, at least, Tirta Empul, and Pura Ulun Danu Bratan, up north by the lake.
Both are incredible. On the first one we met more tourists than locals, but on the second we were almost the only foreigners around. We were fortunate to visit the Pura Ulun Danu Bratan on a festivity day, so there was a lot happening there. People surprised to see us there, and wanting to talk to us. We obliged.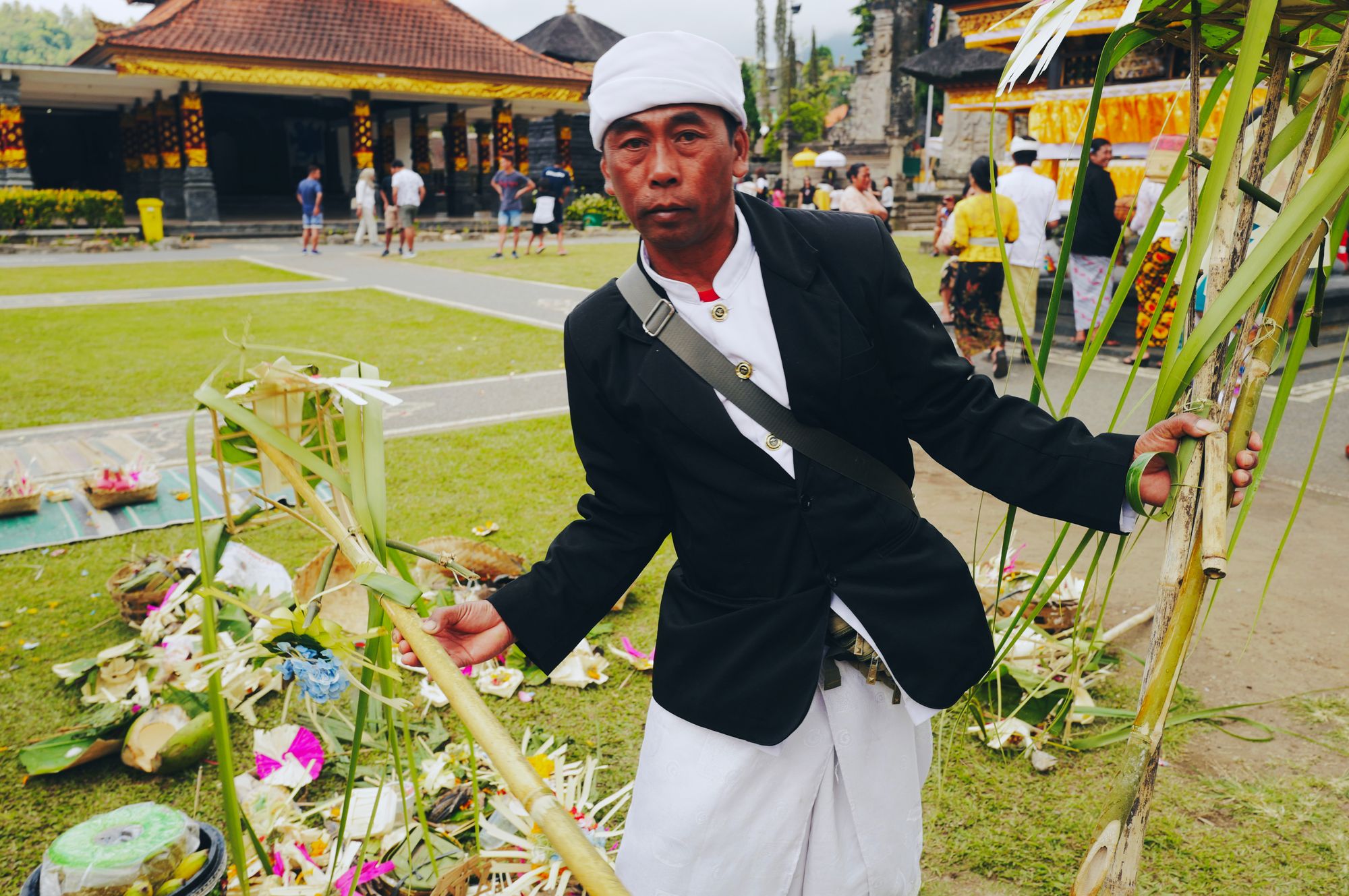 Traffic is crazy in Bali, so every trip takes a little longer than what you'd expect from the distance on the map. Plan accordingly. And we walked a lot, as usual. Getting into the smaller streets and discovering the wonderful surprises they keep hidden from people who don't venture into them.
There's no beach in Ubud. It's further inland, so you'll have to go down to the coast if you want some sand to go with the sun. We didn't want to do that, and took a different road: we changed islands for our beach getaway.
Next stop: Nusa Penida, a short speed boat away. Turns out there are not a lot of beaches there as well, but that was also ok with us.
First get to the coast (with Mr Pande doing the driving), and get on a boat. No pier here, just climb on board with your shoes in your hand and shorts rolled up, and sail for half an hour. And you've made it to Nusa Penida, home of Instagram spots and miles of bad roads to get to them.
The hotel was as nice as expected, the staff a lot more. We were actually looking forward to the time we'd get to this one.
Mr Pande (not related), is a talented photographer, as well as the inn-keeper at Batan Sabo. We met him on Instagram, and there was no other place where we could have picked when we found out he also ran a hotel. We would stay there for a few days. It was the perfect place to relax after riding around the bumpy and dangerous Penida roads all day. We saw a few foreigners falling off their bikes, running into palm trees or the mountains!
Note: Riding bikes is not a danger-free exercise, as one already knows (or should). But riding them here, with no previous experience, can turn the odds against you pretty quickly. And it seems to happen a lot. Kids come to this part of the world, rent a scooter and proceed to crash it on the first turn. Roads are dangerous, potted and often sandy, and things can go wrong in a lot of different ways. And they do. You see them by the dozens, walking around with bandages in their sunburnt arms and legs, if they're lucky. Some have to go back home and have more extensive medical care, or worse.
Anyway, Penida has a lot of cool places to visit and photography.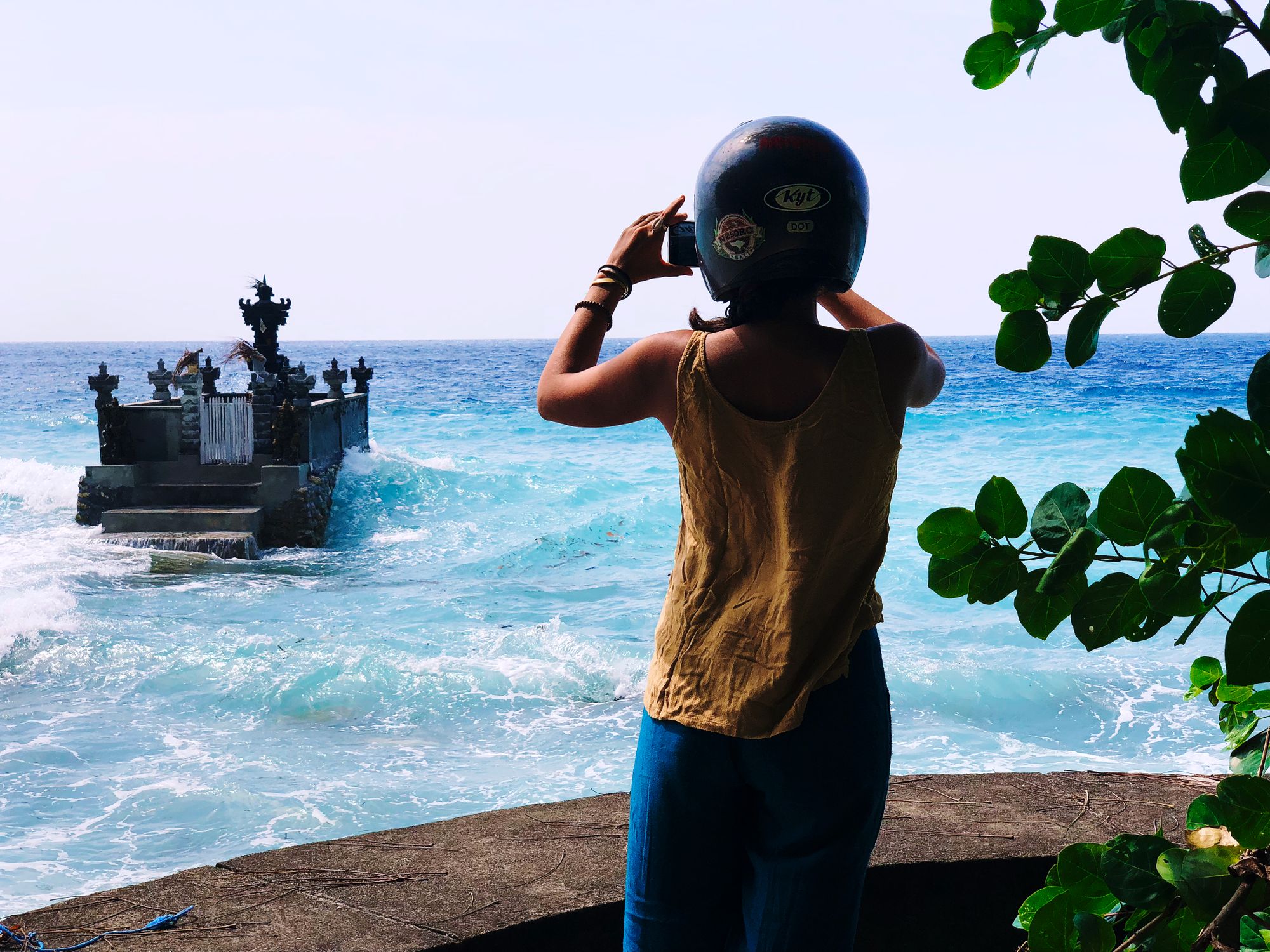 A cave with a temple inside it, lovely and damp, after what seemed like a thousand steps to get there, mountains of seaside restaurants, and amazing scenery to shoot on top of everything. Those Instagram spots are really breathtaking, but you have to work hard to get to them. Most people are not staying on the island, and make it there as a day trip. They'll be driven around, get their photos, and move on. You can almost feel the quietness coming back when their boats leave the island.
We took the scooter out every day, slowly navigating the crazy roads, crisscrossing the island many times.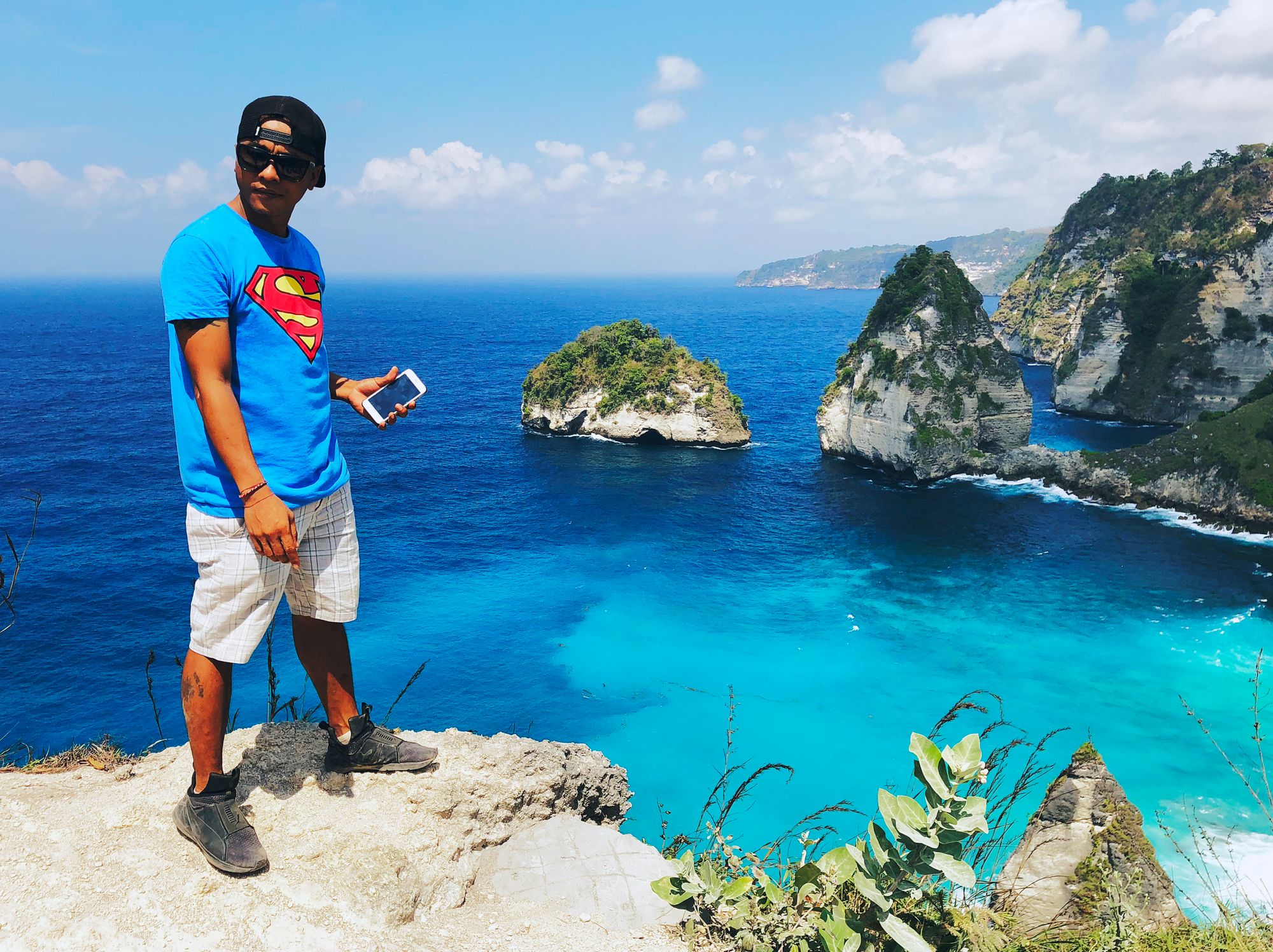 We'd ride it to the restaurants, the market, to the temples, all over the place. We had punctured tires, someone would show up to help us, then move on. It was lovely, every minute of it.
We were extra lucky, and hit it off with Pande and his family. They invited us to a wedding, Pande's sister was getting married. It was the coolest thing we could have done on the island! A day with his family, at their place, attending the ceremony and eating with them. This, I believe, is the memory that will last longer.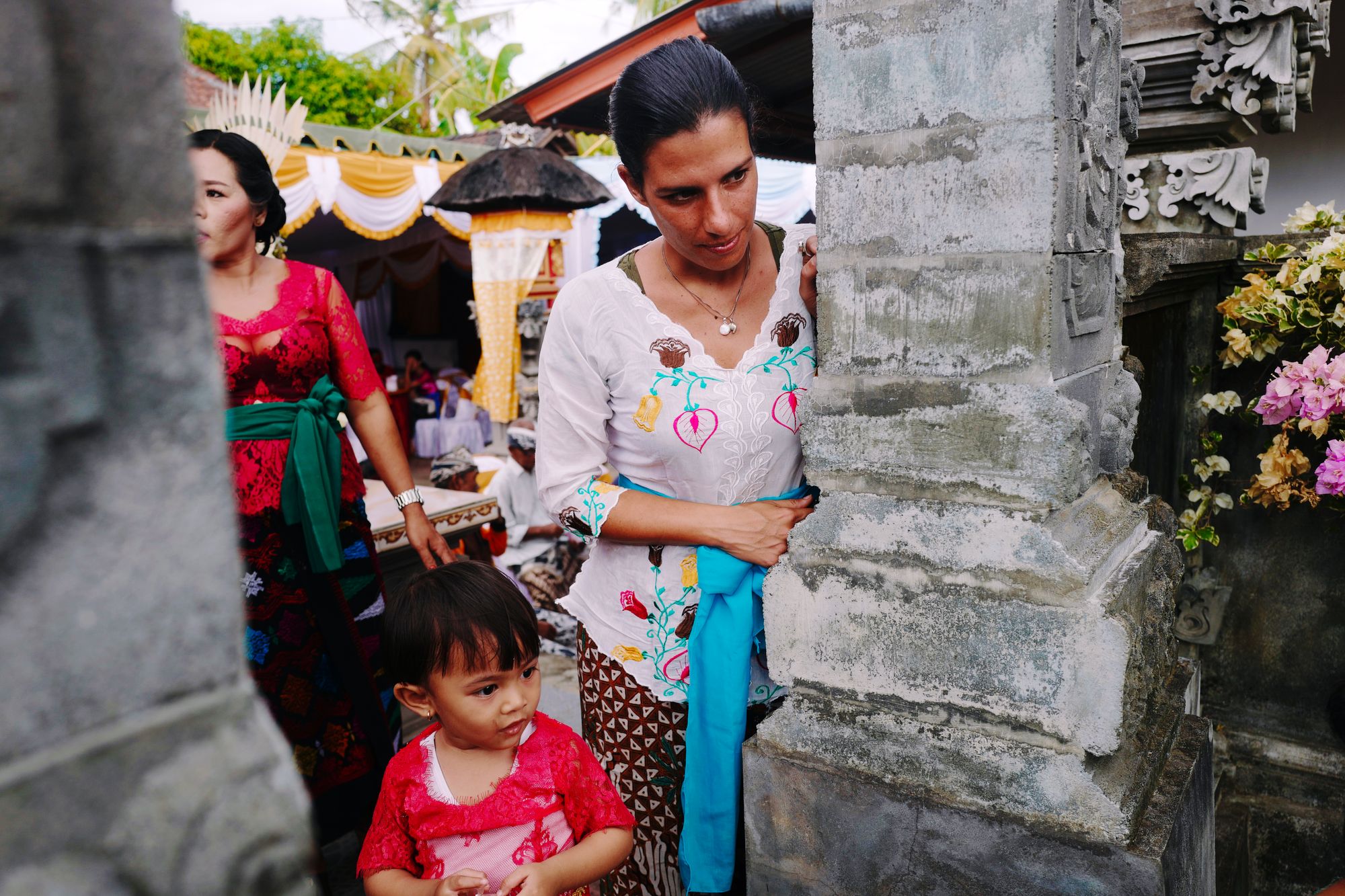 Pande is a very talented photographer, well respected in Bali, and he wouldn't let us leave without offering us yet another treat: a photoshoot. We accepted.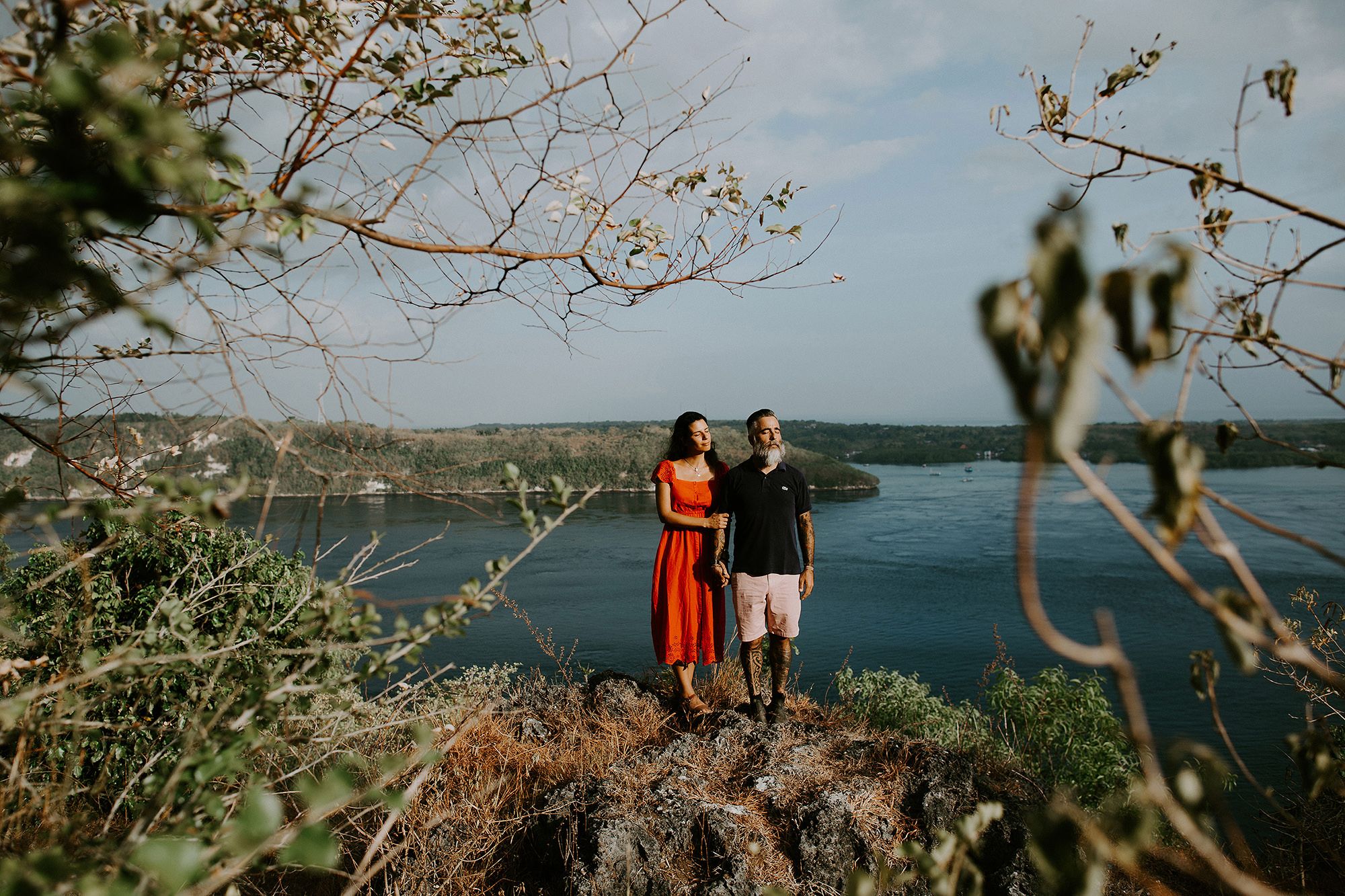 When we had seen most of the island it was time for a day trip to the island next door, Lembongan. Minimally sized, filled with tourists. We rode around it in a flash, and before heading back to quiet Penida. It's a different world. Where Penida is big and mostly, still, mostly devoid of tourists, Lembongan is tiny and you can find them everywhere. At that time we didn't want to deal with that, so the visit was short.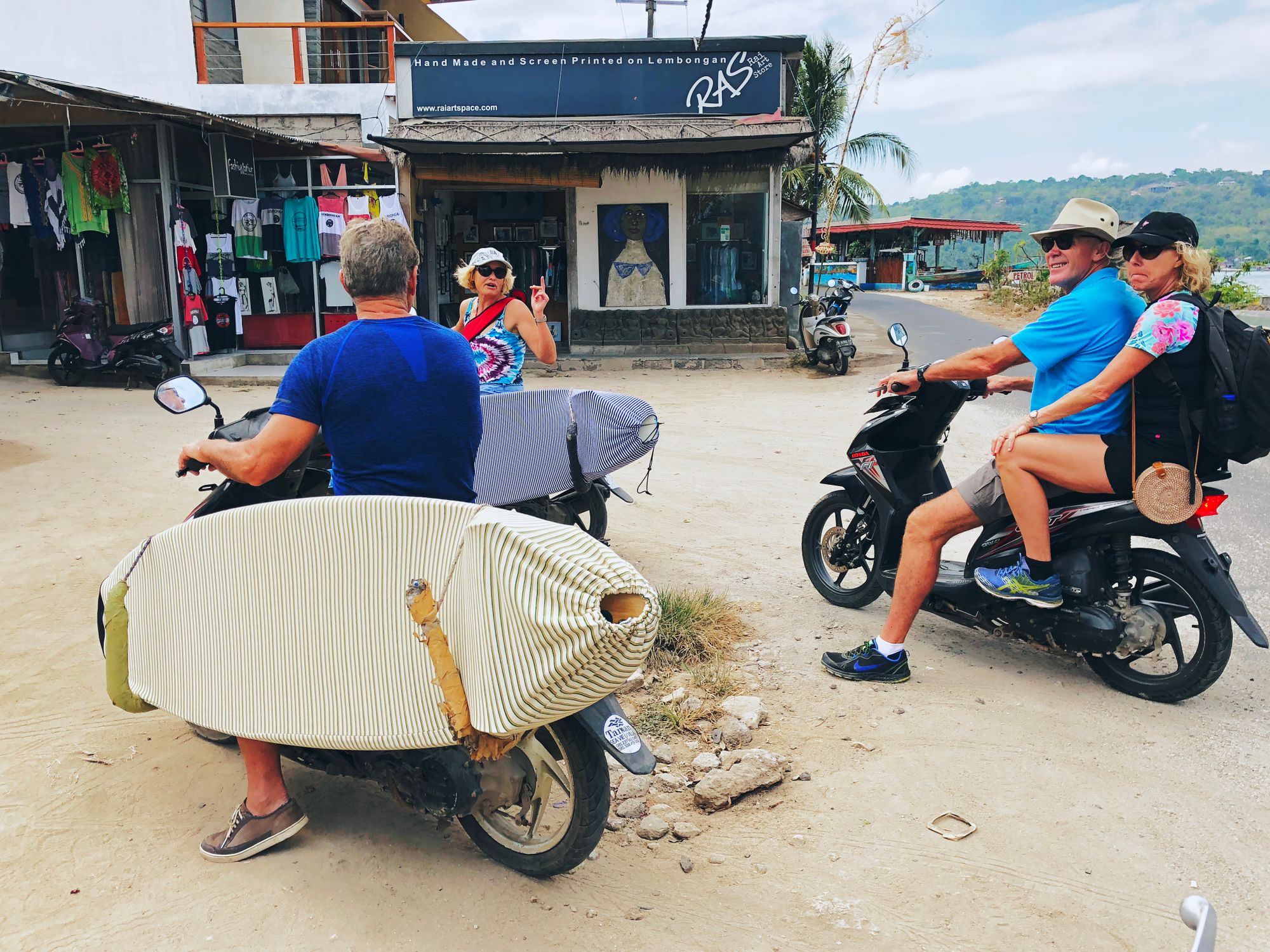 A couple of spots we wanted to check on the island were on our list. Arrived at Devils Tears at the same time as a couple of buses, and the tourists were almost falling into the water, trying to get a good angle for their selfies. I've read that, since we've been there, a few actually have, and now there's no way to get too close to the water, it's been cordoned off.
We enjoyed our final day in Penida, visiting the last spots on the list. Incredible food at amazing places, with breathtaking views every time. The island is amazing, but you'll have to work hard to visit everything. A lot of crazy long stairways going down cliffs, the unkept and dangerously steep roads,... But it's SO worthwhile! Hopefully someone will find a way to keep the island like this, but Pande was not too sure. Most of the islands next door are already too developed, and this one has caught the eye of the Instagram crowd. Not great.
Sadly, soon it was time to move on, and we took the boat back to Bali proper. It was our final day in Indonesia. Pande #1 picked us up from the boat and drove us to the airport. On the way there still time for another temple visit, and a cool waterfall at Tegenungan.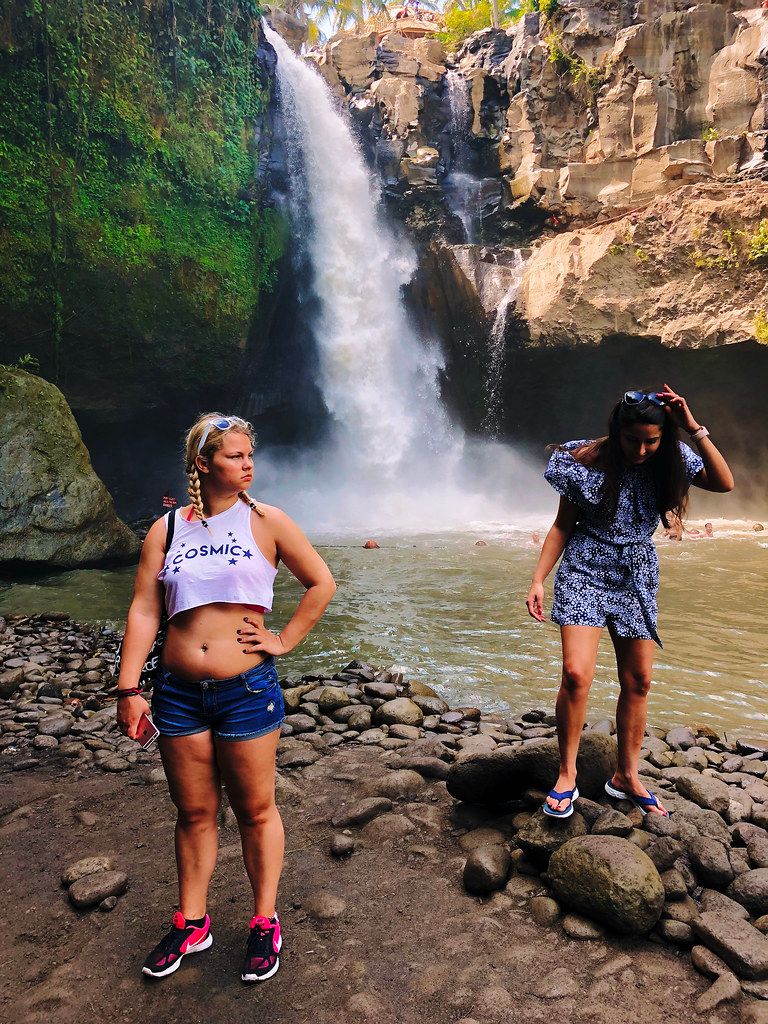 We said goodbye to Mr Pande, and to this wonderful land, and off we went. Next stop: Malaysia!
---
Hotel Nusa Penida: Batan Sabo
---