🇲🇾Malaysia
Eat, Sleep and be Merry.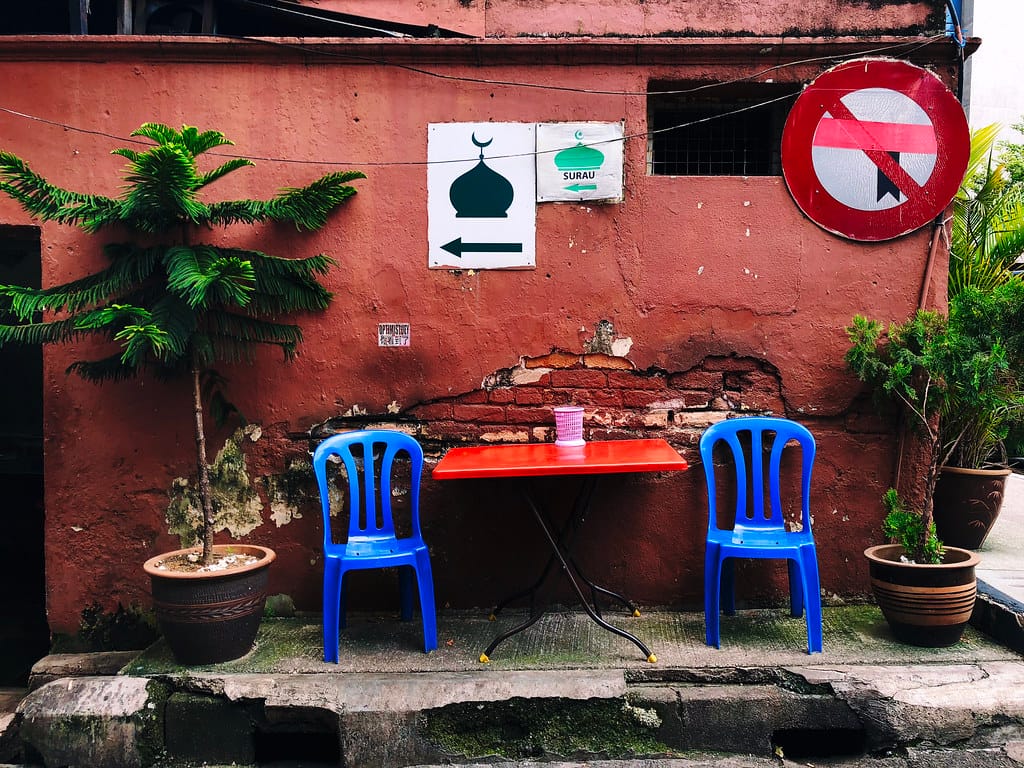 A plane took us to the next country on the list: Malaysia. Hmmmmm, Malaysia. The sound rolls off the tongue.
Arrived at the modern KL airport, train transfer to town, and another Chinese-filled hotel to spend the night. Perfect location, patrons as loud as expected.
Let me get this off my chest at the beggining: The city did not grow on us. At all.
We took a ride on the hop on hop off bus (yeah, I know) and didn't get that urge to step off at any time during the ride. Still, we did, on the glitzy mall area. Bought a G-Shock and we were back on track, all the way to the hotel. The stops had nice enough names, and maybe we were just tired, but everything seemed a little too underwhelming.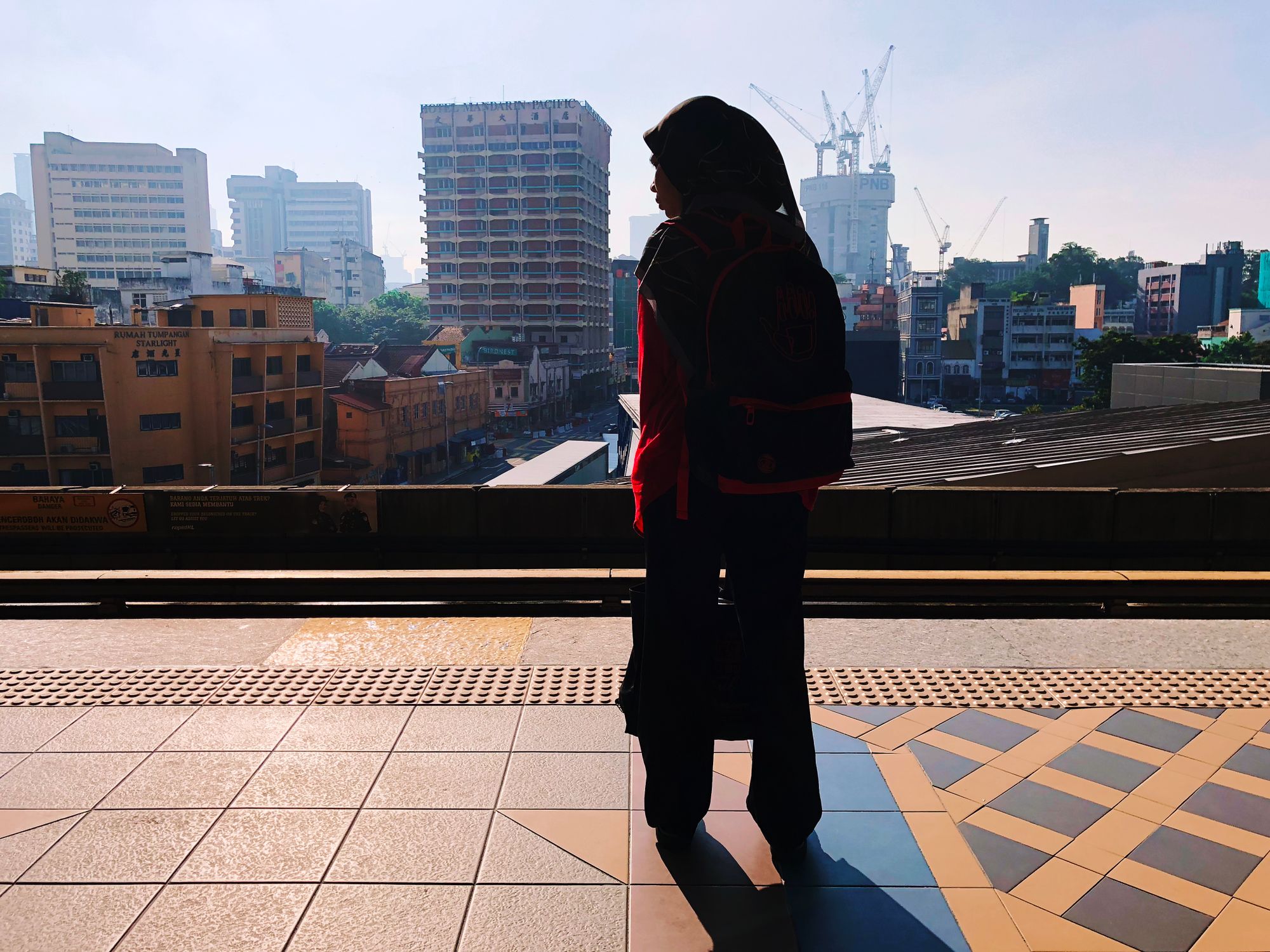 Even the photos from this part of the trip seem a little meh.
We spent the following day walking around, always with a strange feeling we couldn't quite put out finger on. The city is ok, I guess, but it seems it stopped developing along the way, and it's stuck. That was also the day we had an ok lunch on a really cheap Indian joint, and an awful dinner later on. It would be the worst dinner of the whole trip.
On the upside, this is when movieStar became movieStar! Finally!
During one of our lunches in KL, on a very unglamorous Indian restaurant, stuck on a ground floor of what looked like an office building, my wife had her shades on. She looked like, well, a movieStar! I posted the photo, and called her movieStar for the first time. A couple of days later, in Georgetown, we visited a burger place, and the owner had seen the photo. First thing he asks? "Is your wife a movie star?".
We laughed our hearts out, but can you blame him for thinking that? Just look at her on the day he asked, at his burger joint!
We decided not to stick around in KL for too long, as some friends had great reviews of another place in the country, one that was supposed to be very nice.
We took a train with the aircon set to "Iceland", and then a boat, to Georgetown. Things did start to get better. A lot better. Georgetown is a lovely place, with nice, quiet streets to walk around, and nice food everywhere. Actually, amazing food!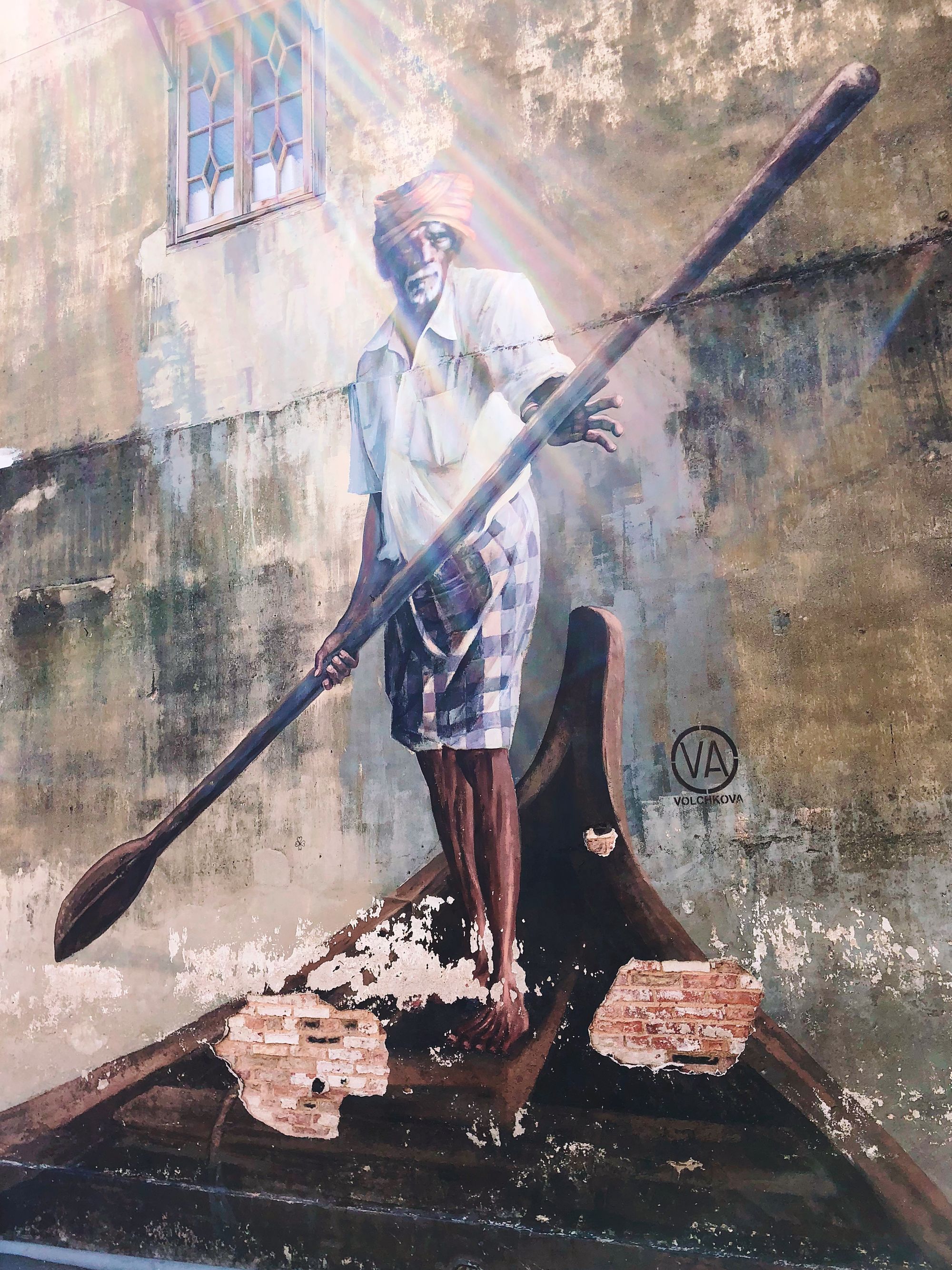 There is also a huge offer when it comes to street art, with maps showing the location of the best work, and we proceeded to find them, one by one. That was a great excuse to roam the streets. People come here for the street art as well, and the locals are more than happy to help you find some hidden ones.
Also found that incredible burger joint with yummy burgers, and the coolest shakes (some with a generous amount of alchool in them), and left very satisfied, ready for a bit more walking. The owner would soon be a friend we kept meeting around Penang. The one that thought movieStar was a Movie Star... The burger house was close to the boutique hotel we were staying at, but we met him everywhere in town. He was also kind enough to write down the name of a few coffeeshops we should visit. Super nice guy, and stellar tips.
We happened to walk by the grand opening of a store, one he recommended. A cool modern store. But traditions being traditions, there was a lion doing its thing. We loved it.
Plenty of museums to visit as well: The Blue Mansion, the Asian Camera Museum and many others.
And, again, food: Street food, market food, restaurant food, you name it. Everything is delicious in Penang. This is one of those places where we could stay for much longer than we did, adding kilos to our weight. Our time in the city was enough to go around, but both of us could easily imagine spending a couple of weeks, or a month, here.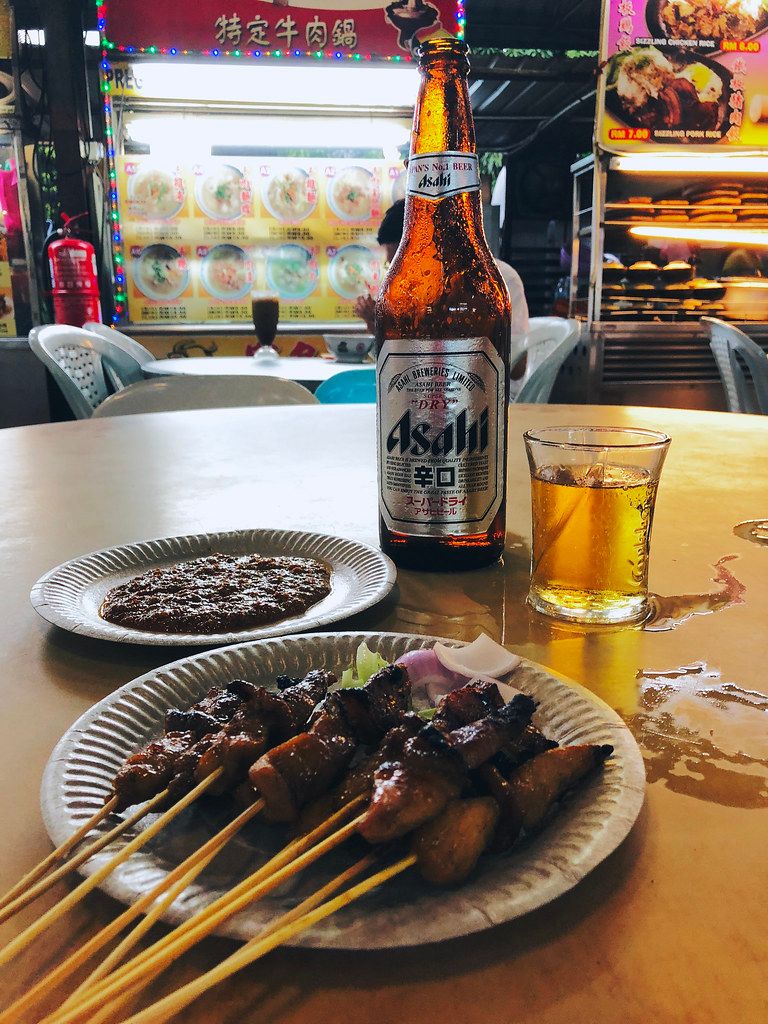 I would gladly keep myself busy days wandering the streets, finding new subjects to shoot. I remember the light as something beautiful, and the architecture is brilliant as well. There was something worthwhile everywhere, not like in some of the other cities where you'll have to walk a few blocks to get to the nice part. Here everything was awesome to watch.
But we moved on.
A short flight to Langkawi, a Malaysian island, where we stayed at a super nice hotel, lounged on the pool, and not much else. Truth be told we went there for the hotel (a tip from another friend), and as a stepping stone to the next country. This was our final stop in Malaysia, we'd get on a boat to Thailand later on.
We were on the island for a couple of days only. The closest town, Cenang, not particularly nice, was filled with tourists (yes, Chinese), tall buildings, McD, and the usual resort town things. Google Maps describes it as "Popular sandy swimming beach along a busy strip of restaurants, duty-free & souvenir shops.". That's enough to keep us away. We rode there on a motorcycle to check it out, but quickly came back to the hotel, for some more pool time and yummy food and drinks.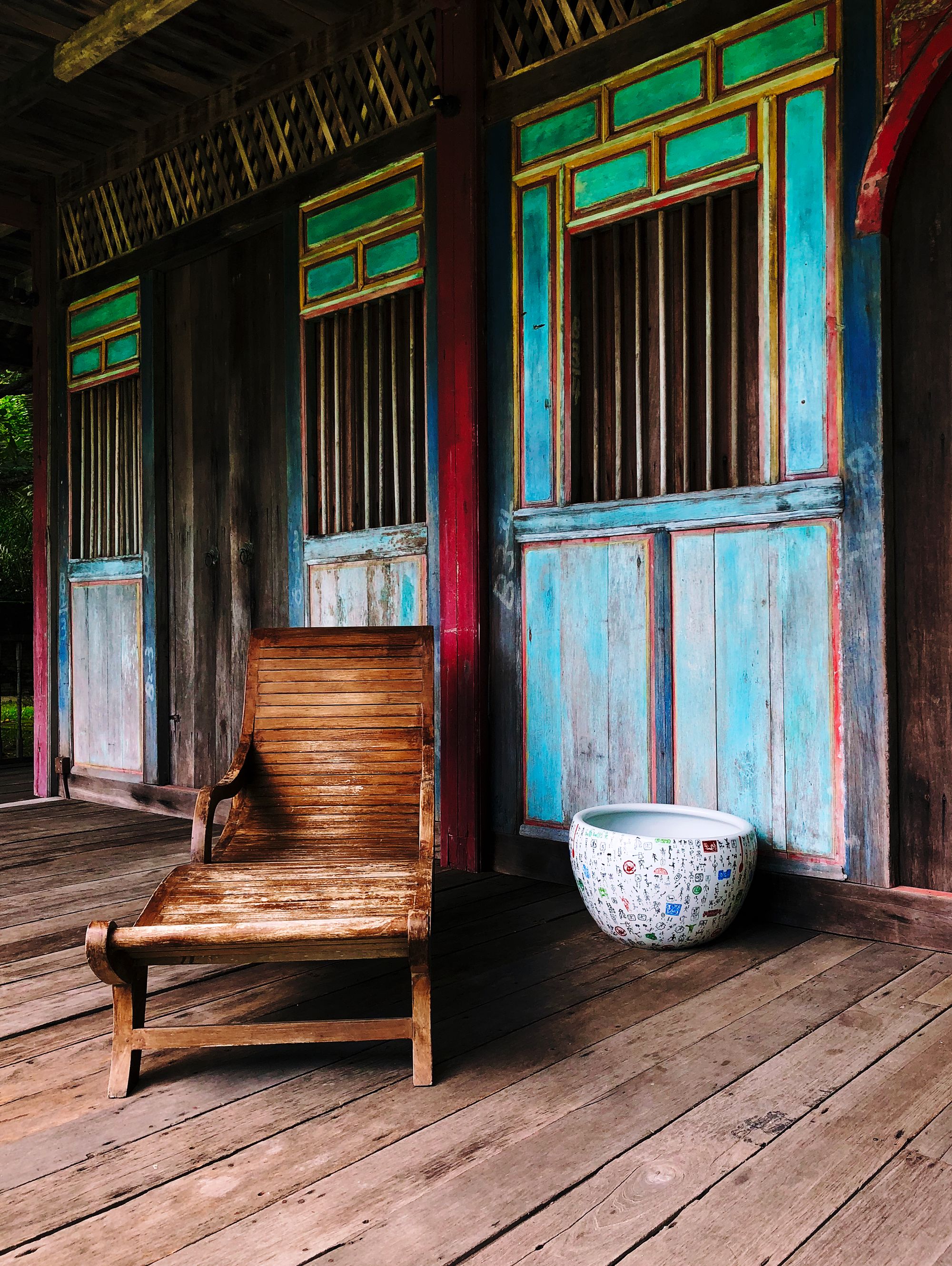 The hotel is made of traditional houses, brought in from different parts of the country, and each one has a couple of rooms. Our room was actually a whole house, a big one, and we had cats as guests (or the cats had us as guests, if I'm being truthful). They would come in whenever they felt like it, and sleep on our bed. This would be movieStar's favourite hotel of all the ones we'd stay at. Not mine, but very close. It was a wonderful place.
In the morning we were leaving, we got up early and were quickly on the move. On the back of a taxi we had arranged the night before, slowly driving across the island, to the harbour. The cabbie was sleepy as hell, we had to talk to him the whole way so he wouldn't fall asleep before dropping us off. He actually asked us to do it, as he was afraid he wouldn't make it all the way without dozing off... We laughed all the way there, a mix of entertained and mildly scared. He thanked us and we tipped him generously in the end, and told him he should get some sleep. I doubt he did. We had made it to the pier, alive and on time.
The boat would take us to another island, on another country. We even met a fellow Portuguese on board, the first one we'd seen so far. He was a boat captain/dive instructor, living in Malaysia. Hadn't been home in years, and felt no urge to go back. We get it. He was on a visa run, we would see him a couple of times on our next stop: Thailand.
---
Hotel Georgetown : Sweet Cili
Hotel Langkawi : Temple Tree
---